Recently I have seen all the buzz about the newest motivational book to hit the market, titled "The Mind Of A Winner" by economic empowerment advocate and award-winning branding expert – Steve Canal. Established business leaders ranging from Gary Vaynerchuk, James Rhee, 2 Chainz, Daymond John, Swin Cash, Barbara Corcoran and more have all commended Steve Canal's "The Mind of a Winner" movement surrounding the release of this much needed book.
I was so excited to receive an advance copy of "The Mind Of A Winner" , I have to admit I couldn't stop reading it and finished it in one weekend. Canal's book takes a deep dive into personal growth with the intent to cut your learning curve and inspire a winning mindset that will put readers on the path to achieving success with purpose.  "The Mind of a Winner"  rose to #1 on the Amazon Best Seller list in less than 24 hours and I have to say it elevated my mindset throughout each page I consumed.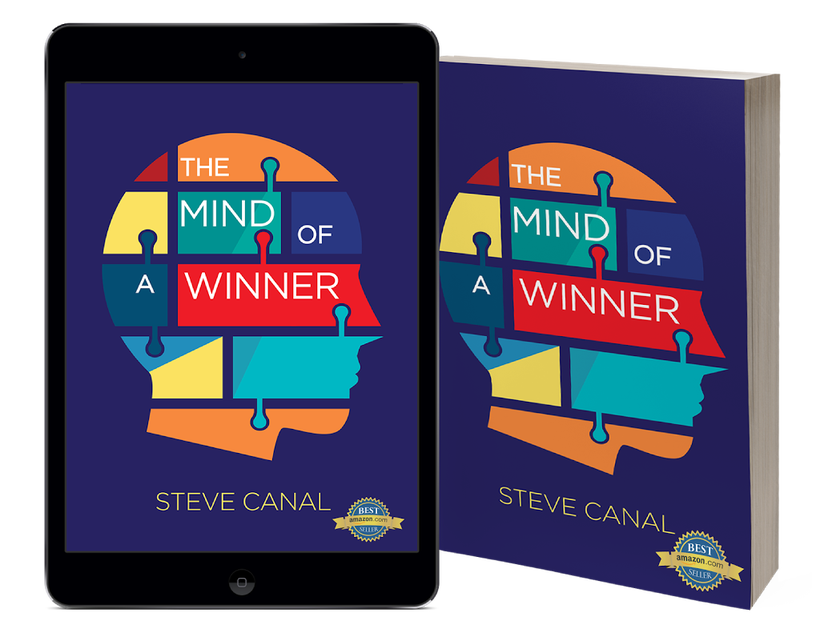 I had a chance to catch up with Steve Canal (not an easy task, with such an in-demand business man) to talk about unlocking the mind of a winner and his tips to having a winning mindset.
"Unlocking The Mind of a Winner takes a relentless determination and rare drive into the realm where miracles happen. Those who make these Power Moves are usually part of a movement much bigger than themselves that ultimately disrupt the common way of thinking and alters your approach to life. I have listed my 10 Power Moves that will guide you into having a winning mindset" states author Steve Canal.
Steve Canal's 10 Power Moves For Having The Mind Of A Winner:
We all are good at something, but the difference between making it a hobby or a business is the discipline and work you put behind it. Never just rely on the gift.
Train your mind to flush out what you want to accomplish, then take the first actionable step which is writing out your goal.
It's easy to get emotional about those who come in and out of your life, but the time we spend with people should be of value and have a purpose.  Your time should be earned and not easily passed around.
Don't allow the shortsightedness of others deter you from being great. Have faith in your vision and be mentally tough. Nothing great or worth having ever comes easy.
The bumpy road may take a little longer and require more grit and willingness to sacrifice, but getting out of your comfort zone is where you grow and learn. In the end, the extra effort will be well worth it and much more appreciated. The shortcut path lacks lessons and doesn't challenge your mind, which ultimately helps you to properly develop.
Believe that if you keep working hard you will eventually get to the positive result you want. Activate the mentality to say whether it takes me two months, two years, or ten years, I'm going to get there. Then work your tail off and stay the course.
The ability to communicate your vision is a key component to your growth. Figuring out how your relationships can help further develop your brand, along with help you properly develop and grow will put you at a competitive advantage.
The entire gravitational pull of discipline creates a winning atmosphere and mindset.
Thinking about the worst-case scenario is a great exercise. As you think about and consider your worst fears you quickly realized that each circumstance may be something you can handle. This method will help stare pitfalls in the face, but ultimately circumvent them because the thoughts prepare you for the worst and calm the fear of the outcome.
Visualization is a key. Sit back and play out your plan like a movie in your mind. See all the moving parts, people involved and how you ultimately reach your goal. Make it a habit to play out your journey.
Remember, you only live once, so why not be great! – Steve Canal